The Winter Edit
What you wear is such a reflection of who you are, and how you are feeling. And in 2019, I'm feeling GOOD. Check out THE WINTER EDIT below, a curation of my favorite pieces for the cold weather seasons.
When it comes to fashion, comfort is at the top of the list for me. And here comes a wrap dress made in the most luxurious, thick fabric. Not that cheap breezy material - this fabric had some weight to it. I can't imagine this silhouette NOT working for you.
DRESS: Stine Goya - Reflection Dress. Rented using Rent The Runway Unlimited
SHOES: Chase and Chloe D'Orsay Pump (I can't find them in yellow anymore)
BERET: Vintage wool beret, picked out of a trunk full of old hats on my trip to Amsterdam in 2018.
BRACELETS: Kendra Scott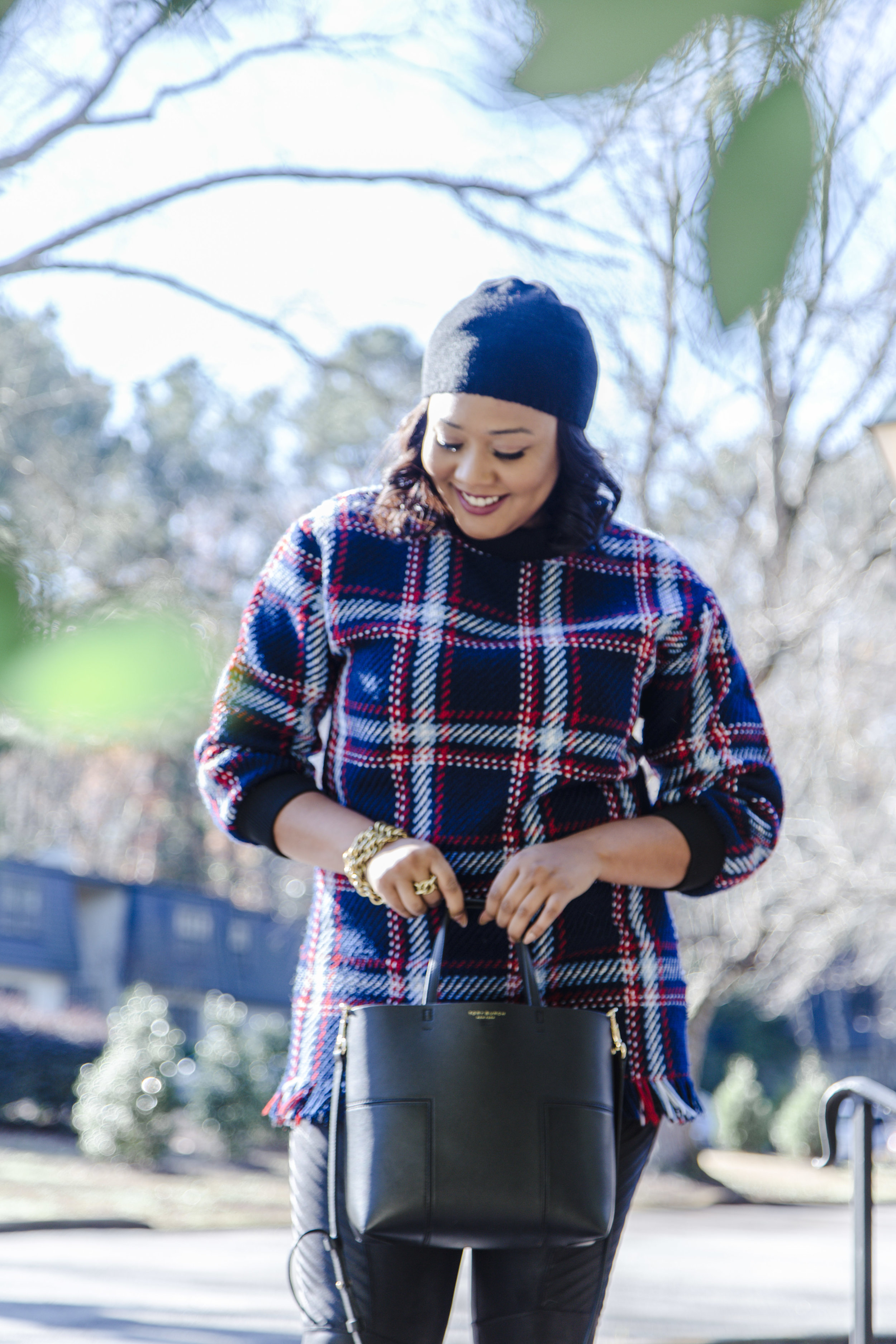 This outfit is one of my winter favorites, mostly because of the INTENSE WARMTH of both the tunic and the leggings. If you need to make moves, and don't want to worry about bringing a coat along, this outfit will suit you just fine! Also featured here is my FOREVER PURSE. This bag probably deserves it's own post, but this is what it looks like when her girl meets the one bag that she could wear forever. It is a purse match made in heaven!!!
TUNIC: J.O.A. Plaid Fringe Shift Dress. Rented with Rent The Runway Unlimited
LEGGINGS: Spanx Faux Leather Moto Leggings
BEANIE: Target
PURSE: No longer available, but it is from Tory Burch. There are similar styles available!
BRACELET - Fun fact - the bracelet is actually my late grandmother's necklace, wrapped around my wrist and around my finger.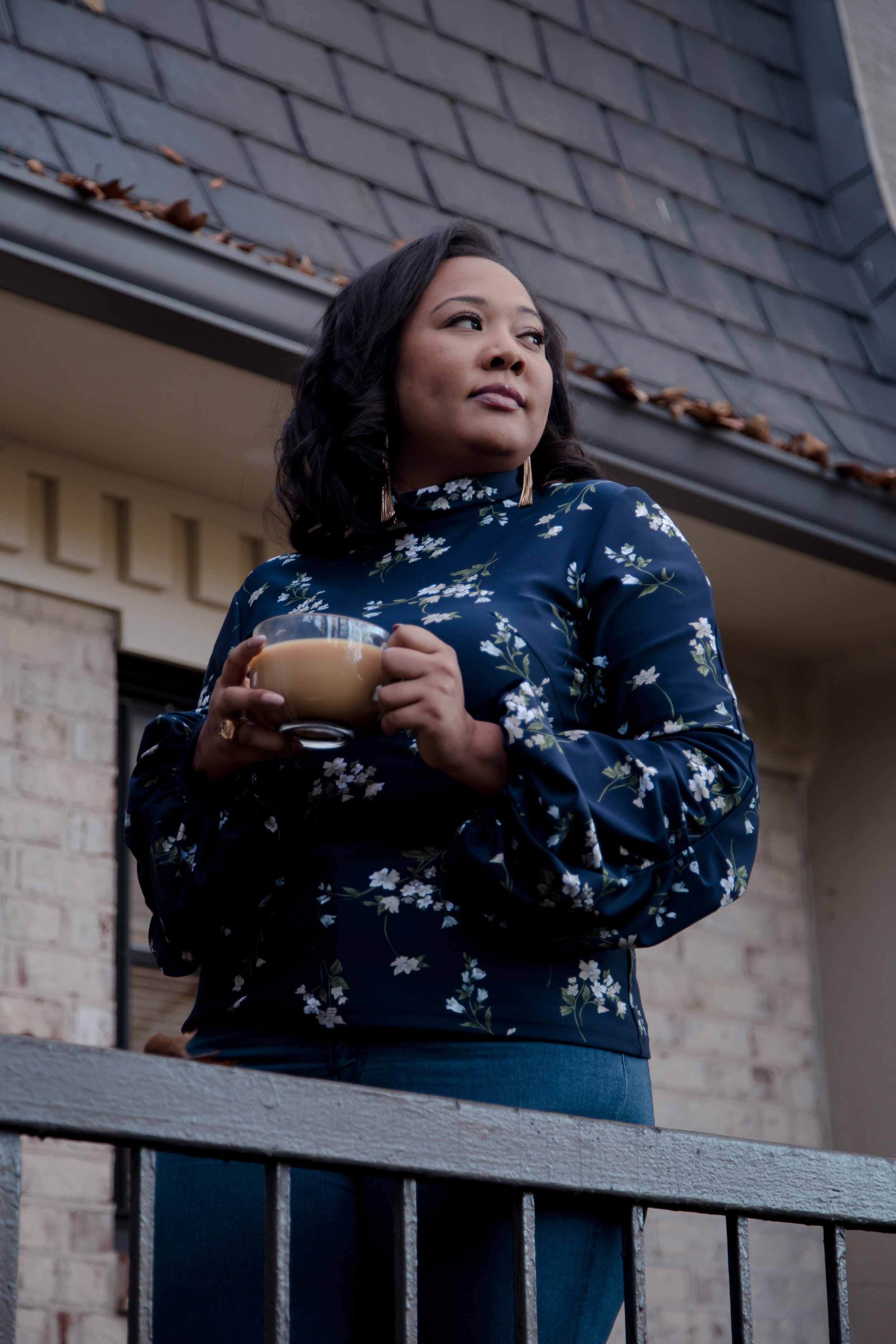 In the winter, my legs stay pretty well covered…because…cold. So it is the perfect time for the STATEMENT BLOUSE to shine! For two years straight, I have been in love with the poofy sleeve trend, but I predict that this is the last year it will be around for a while.
BLOUSE: UnitedWood - Serena Blouse. Rented from Rent The Runway Unlimited
EARRINGS : Tassle Earrings from FashionNova
RING: The ring was from an old ex-boyfriend. I'm surprised it hasn't turned my finger green yet LOL.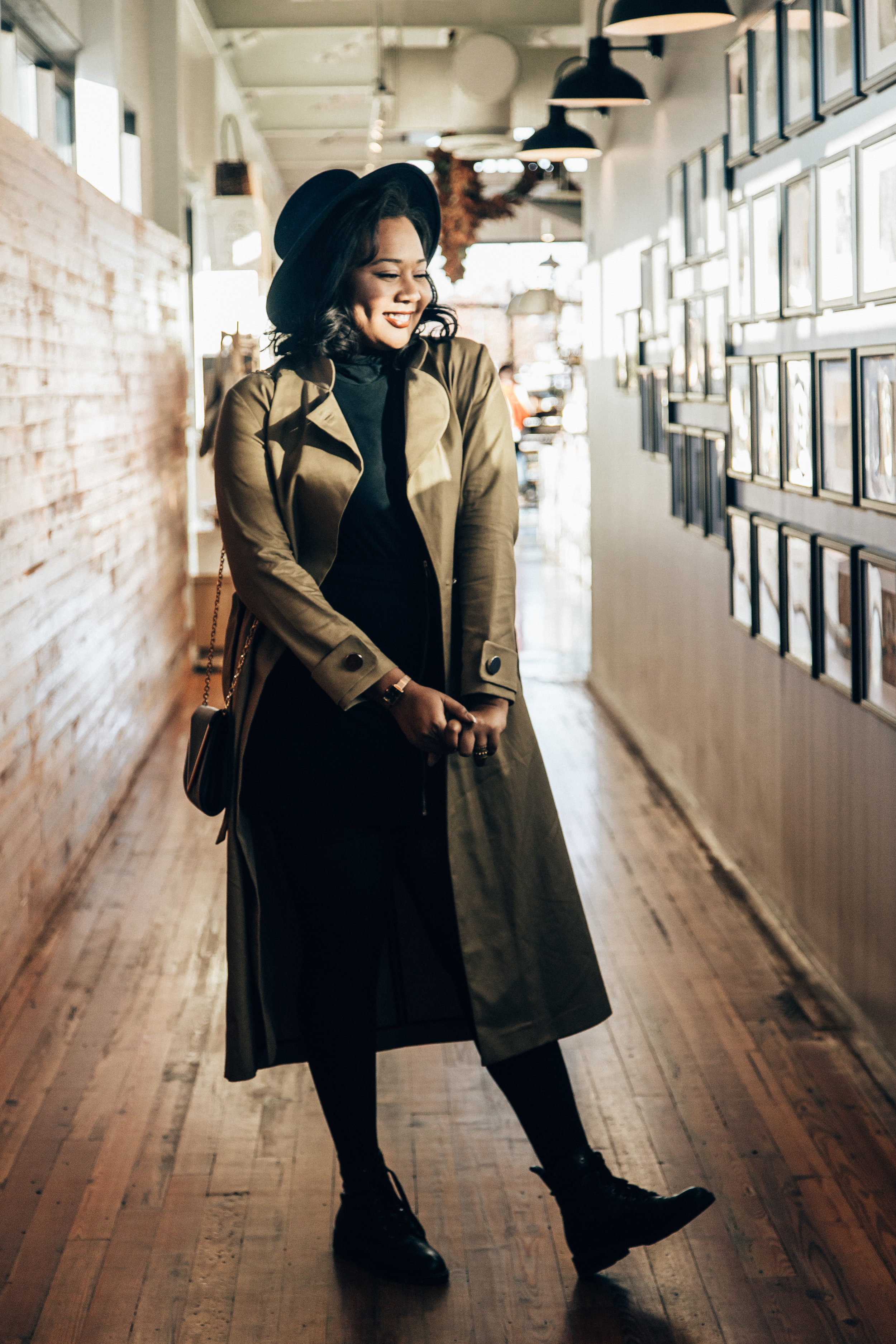 Every once in a while, you meet a piece that just SPEAKS to you. That is this coat. I found this at my favorite vintage sale in Atlanta. Apparently, it was found at an estate sale of a very wealthy, very fashionable lady. The tag says that is is from Paris - there's no telling who was wearing this coat before me, but I like to think she was a pretty cool lady.
This amazing vintage sale happens seasonally and is curated by Ada Rush, a totally fashionable and all-around cool human, by my account. Follow her on Instagram here to stay tuned for her next sale - you don't want to miss it!
I hope that you enjoyed my FIRST EVER fashion blog post - it is so hard to step outside of my comfort zone and "pretend model", but fashion is one of the best things that I rediscovered through my quest for a beautiful life. And I'm SO glad that I get to share what I've found with you all.
Xo.
E