Jo Malone X Nordstorm Master Class
Ok, guys - quick humble brag. I am CONSTANTLY stopped by strangers asking, "What are you wearing?" And I always says the same thing - "It's Jo Malone, and it's AMAZING!"
It is hard for me to stop myself from going on, and on, and on about how much I LOVE Jo Malone. I just can't help sharing - when I discovered Jo Malone, I was looking for my new signature fragrance. Jo Malone is different from most perfume brands - their perfumes are SPECIFICALLY designed to be paired with one another. So, instead of finding a signature fragrance, I found 5. And after that, I was hooked!
Jo Malone London partnered with Nordstrom Perimeter Mall to hold an afternoon Master Class where we were able to learn some Jo Malone history, learn how to mix and match fragrances, and try their brand new fragrance, Honeysuckle and Davana!
One of my favorite things about Jo Malone is that their fragrances have a significant sillage. Meaning, the fragrance lingers in the air for hours before it begins to fade. After trying Honeysuckle and Davana early in the afternoon, I was pleased to see that the fragrance had faded to a fresh, soft scent by evening. I could still smell it! It starts off very bright and floral. Davana is an Indian herb, who's signature characteristic is that is smells different on each person!
So, how did we learn how to perfectly combine fragrances? Patricia Stern, Field Trainer with Jo Malone, introduced us to the olfactory cradle (above). This is used to test out fragrance combinations. Simply spray a different fragrance on each of the strips, put the two strips in the cradle shape, like above, and put the cradle to your nose. Try out different combinations until you find your dream scent!
Check out some pictures from the event, below! Patty was such an excellent teacher, and she taught us how to best use Jo Malone's products so that we get our money's worth! My favorite tip, that I will certainly use during the holidays, is using linen spray on tablecloths. I have never thought to do that before (I usually use this for bed linens) - I am going to choose my Jo Malone Home fragrance spray, and try it out. I will let you all know how it turns out!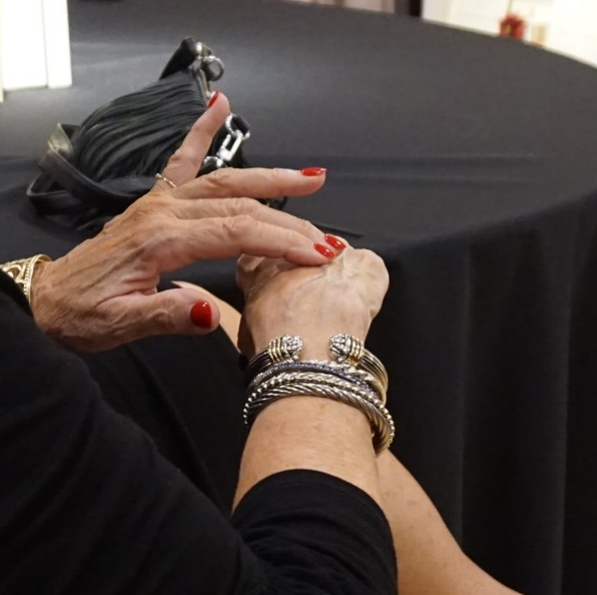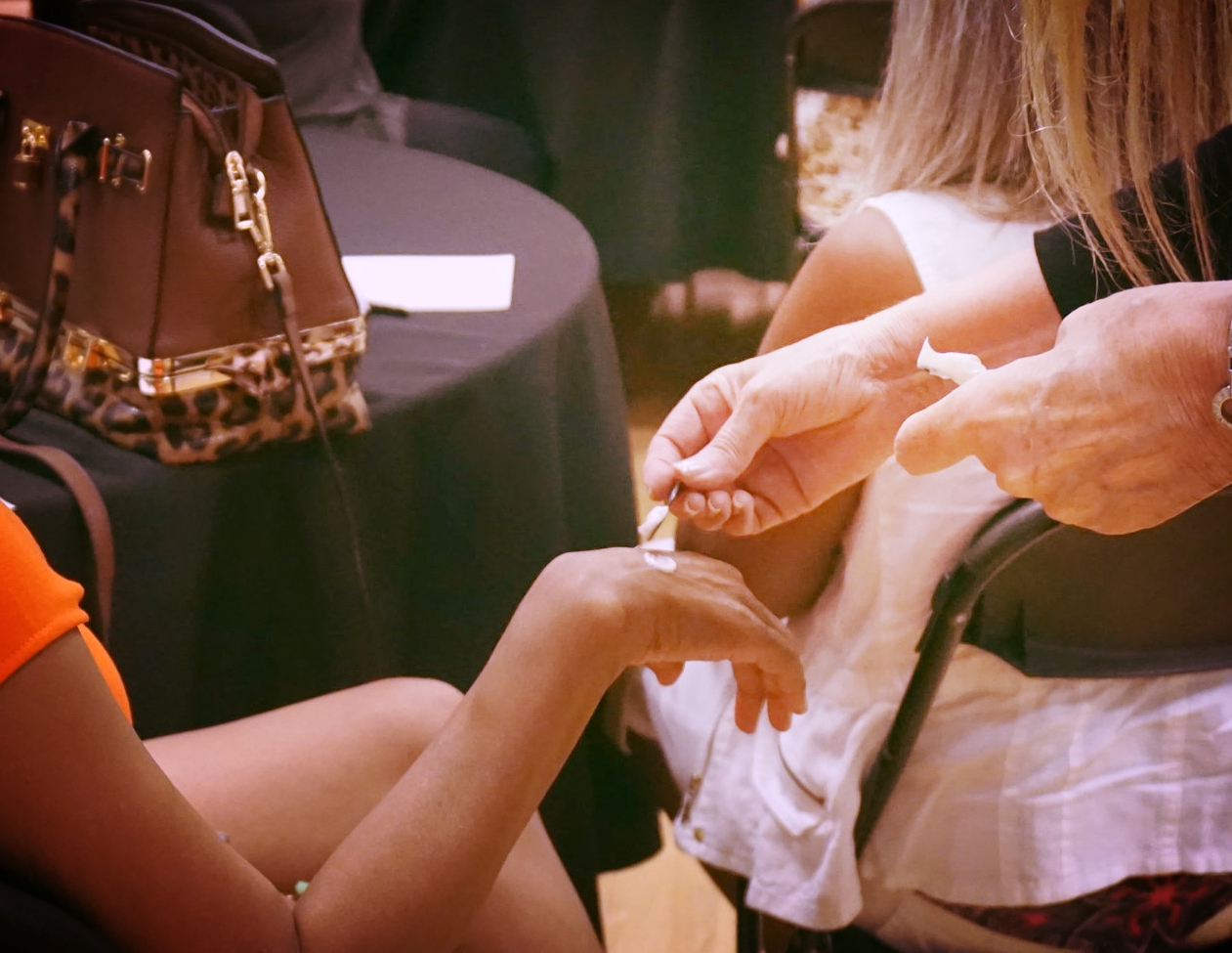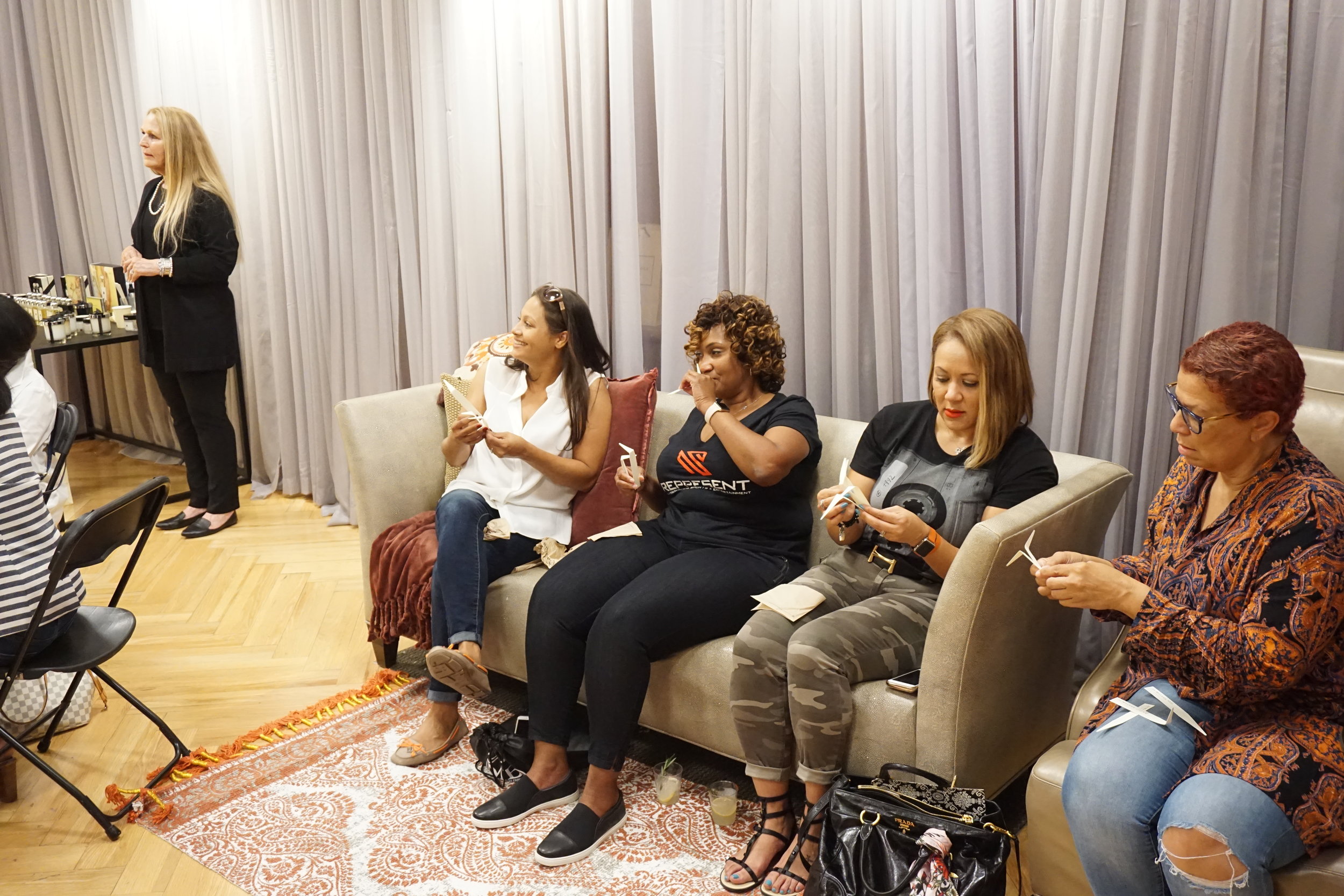 TIP: Before you purchase your next signature scent, I have ONE MAJOR TIP for you - take a sample and try the fragrance for a few days before you buy it! You want to make sure that the fragrances works well with your body chemistry, and fragrances ALWAYS smell differently outside, compared to at the fragrance counter.
Next time you are in Nordstrom, Saks, Neimans or Sephora, stop by the Jo Malone counter and pick up some samples! You can also order, online, at jomalone.com .
If you were wondering, here are my top 3 FAVORITE Jo Malone scents. You can't go wrong with these!!!
1)Peony and Blush Suede
2)Dark Amber and Ginger Lily
3)Wood Sage and Sea Salt
HUGE thank you to my favorite Jo Malone team member, Ms. Annie. Every time I visit her at the counter, I feel like a VIP. She takes so much care in what she does, and always lets me know what is coming next with my favorite fragrance brand. Thank you so much for letting me join your event!
Xo.
Elle