Restaurant de Kas // Amsterdam
I have never been so impressed with a restaurant. I was glad to be dining alone - I selfishly wanted this moment all to myself.
Right after I booked my flight to Amsterdam, I made a reservation for 1 at Restaurant de Kas. Walking toward what looked like a greenhouse (and actually is a greenhouse), I didn't have many expectations about the food - the menu constantly changes. But I knew I was in for an unreal dining experience (via online reviews) - and they were right.
To date, the lunch I had in this set of greenhouses in Amsterdam is the best meal I have ever had. I'm obsessed, clearly. So I am going to show you each course...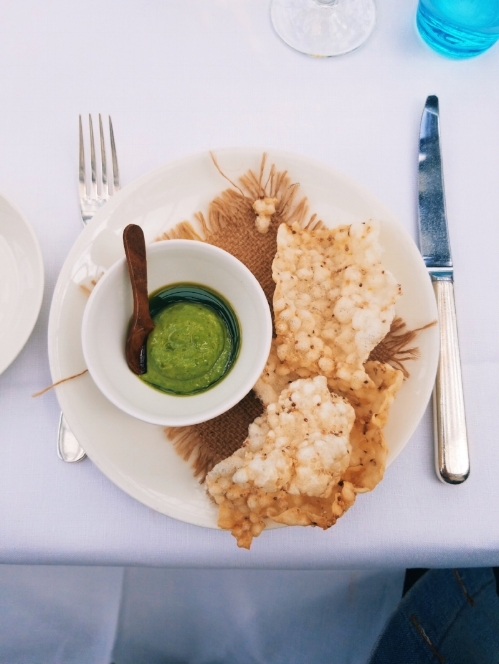 Crispy Tapioca with Fresh Celery Dip
Notes: Crispy, salty. I need the recipe for this dip. The celery dip tastes so fresh - the celery flavor is really defined. I have never tasted anything like this.
Pickled Radish with Honey Mustard Cream Sauce
Notes: This is a confusing dish. Like, I'm confused at why this is so good. Pickled radish. Mustard cream sauce. Poppy seeds. I ate it all and wanted more
Baked Potato - Radish, Oyster Creme, Beef Broth
Notes: THE BEST DISH. When I took a bite of this dish, the first word that came to mind was umami, and then someone else said the same thing at the table next to me. This was savory, with so many layers of flavor - it was perfection. And oyster creme is my new favorite thing...
Rocket Ravioli - Herb Butter Sauce, Parmesan
Notes: Yummy, perfectly cooked pasta. But after the EXPLOSION of course 1, this just doesn't stand out. By the way, 'rocket' is another name for parsley.
Catch of the Day - Halibut
Cime de Rapa, Bergse Anchovies, Parsley Sauce
Notes: Wild broccoli. Sardines. This was really good, salty, savory, and the parsley sauce was slightly sweet. The fish was cook BEAUTIFULLY. I enhaled this.
Poached Rhubard - Vanilla Ice Cream, Pink Peppercorn, Elderflower
Notes: I took a bite and tasted a bunch of flavors I have never tasted. This dessert made my head spin - sweet and sour, fruity and creamy. With the crunch of the peppercorn. This was a GENIUS dish!
After eating the best meal of my life, I decided to roam around the greenhouses at Restaurant de Kas. All of the food, prepared in their restaurant, is grown in the greenhouse or at the farm nearby. While I was browsing, a man stopped by and started chatting with me about my meal. I asked if he worked there and he said 'Yes, I'm Gert and I'm the owner.'
After that, I couldn't stop gushing over how amazing everything was - he was so sweet, and he gave me a history lesson on the area and his restaurant. I will always cherish this moment - my first time meeting a Michelin star chef! And to me, that's like meeting a movie star LOL
https://www.restaurantdekas.nl
Address: Kamerlingh Onneslaan 3
1097 DE Amsterdam
T +31204624562
E info@restaurantdekas.nl
Xo
Elle