Tulum, Mexico
You all know that I like to stay a bit off of the beaten path, so Tulum, one of Mexico's hottest destinations right now, was not on my short list of travel destinations. But, when my dear friend Fes invited me for her birthday weekend, I couldn't refuse to turn-up for her BIG 3-0! I expected to arrive to a crowded, rambunctious city, especially since it was Memorial Day weekend, but I couldn't have been more wrong. Unlike Cancun (which we passed to get to Tulum), the city was mostly calm, organic, clean and fun! Instead of nightclubs, Tulum has bars that play great music. Instead of shopping malls, there were cute boutique shopping areas. But, to my delight, everything was still VERY affordable, like other Mexican vacation spots.
BELIEVE THE HYPE - I would highly recommend traveling to Tulum if you need a relaxing weekend to unwind with good food, beautiful hotels and lots of sun! I will DEFINITELY be back! Check out some of my favorite experiences below, and let me know if you have any questions before you go!
We had 10 friends in our travel group, and the birthday girl found this GORGEOUS hotel and rented two penthouse suites! The price was very affordable for such a spacious layout, including a full kitchen, wood-fire grill, rooftop deck with a private pool, and many more amenities. But, it is about 15 minutes away from the beach. Besides this, I would highly recommend this hotel. It has the private feel of a condo community, but includes a restaurant, spa, and very impressive gym offering boxing and rock climbing classes.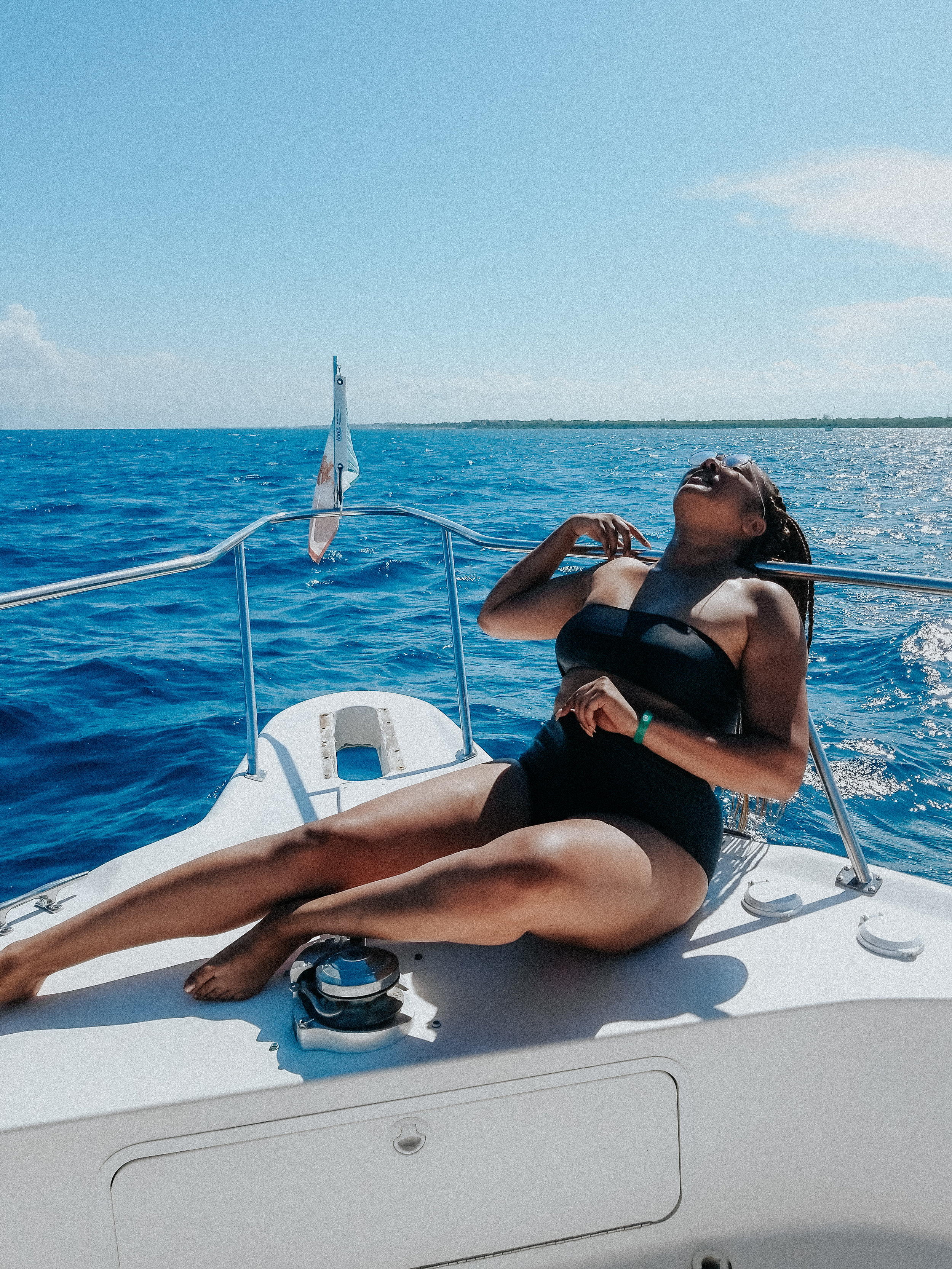 If there is one thing that I am certain of, it is that I am a BOAT GIRL, through and through. If you are looking for a way to re-energize, and soak up some Vitamin D, I highly recommend H2OH Sun Cruises. Fernando, our boat's captain, kept things fun by making us drinks during the entire 4 hour cruise, and taking us snorkeling! This was the highlight of the trip for me - don't think twice about booking one of their cruises. WELL WORTH THE $$$!
A hotel and beach club, Papaya Play Project is like no place that I have every been. Once you enter, you feel like you are walking through an island village - everything from the bathrooms to the kitchen are outside. As a nature lover, I immediately felt so comfortable in this environment. We were led to the beach where we had drinks and food under a hut on the shoreline. IT WAS MAGICAL. The vibes of this hotel are a little romantic, so if you are looking for a baecation, check out the beach huts that you can rent and sleep with your love under the stars!
I am feeling anxiety just WRITING this review LOL!!! I am afraid of heights, so I was thrilled when I heard we were going ziplining! Haha So, as we walked up story after story until we were far above the trees, I took a deep breathe and just did it. I jumped off the platform. And it was truly terrifying. I was proud that I faced my fear of heights, and so happy to not have to zipline anymore! We also road ATVs and went Cave Diving with Aventura Mayas. If adventure and risk in general is your thing ( LMAO) then this is right up your alley!
Here are a few extra pictures from a BEAUTIFUL trip, including my two favorite eats - the best breakfast burrito ever at Burrito Amor and an AMAZING chili seabass dish from Rosa Negra!
TRAVEL TIP: When traveling to Tulum, you will fly into Cancun International Airport, and then drive for about an hour or so to Tulum. We traveled via a shuttle service that accommodated all 10 of us.
I am so excited for more summer travel in June, but I will cherish theses memories in Tulum with my friends forever!
Drop me a comment below if you have any Tulum questions, and let me know where you guys are planning to travel this summer!
Xo,
E